Acherozu - Vendetta Ocean CD Digipack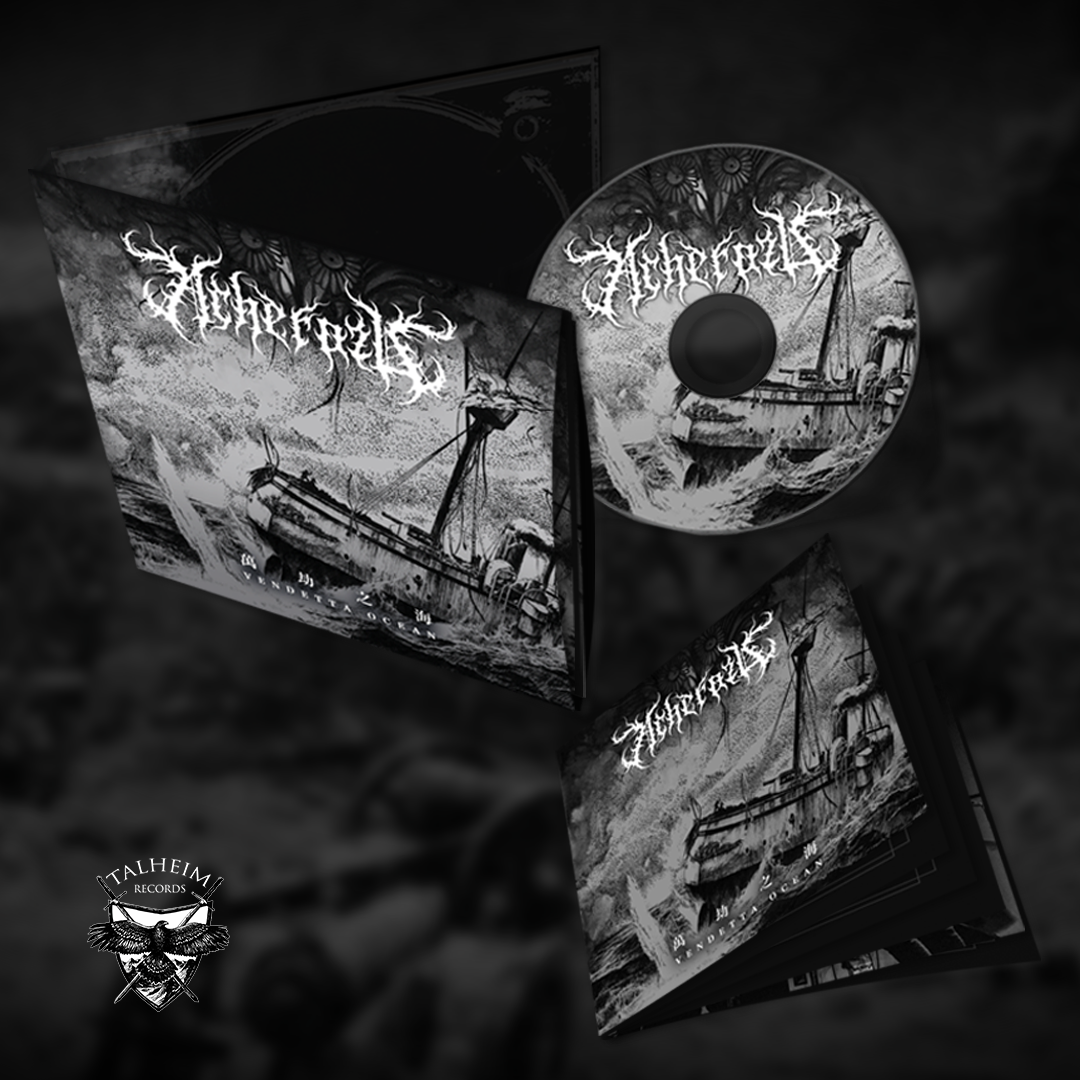 Sofort verfügbar, Lieferzeit 7 days
Produktinformationen "Acherozu - Vendetta Ocean CD Digipack"
Zweites Album der chinesischen Black Metal Band Acherozu aus Shenyang.
Limitiertes Digipak mit Beiheft auf 500 Stück.
Titelliste:
01. Demon Phantom
02. Sun Katana
03. Abkana
04. Dragon'Flag
05. Barbaric Power
06. Die in 1894
07. Gashan
08. Jurgan
09. Oceanic Sacrifice
10. Broken Waves
Historischer Hintergrund:
In 1894, due to the Donghak Peasant Revolution happened in Korean, the Japanese troops finally found the chance to invaded Korean. The battle of Feng Island and Yellow Sea were the first wave of Japanese attack and they successfully collapsed the Korean army's resistance.Few months later,, the Japanese troops approached to the Chinese Liaodong Peninsula. After accepted the assistance request from the Korean Joseon Dynasty, the Qing Dynasty decided to military assistance Korean. For the hometown peace and national righteousness, a Shaman named Karmasi who lived in the Liaodong coastal decided to joined the Qing Army. He followed the General Iketanga and the Northern Naval Commander Ding Ruchang went to the frontline and went into the battles to wage against the Japanese army. The Liaodong Peninsula became the bloody battlefield littered with corpses, both sides had enormous sacrifices. Because of the corruption of Qing Government and its cowardice attitude, the Qing troops were always in an inferior position and without any backup. However, the fighting will of Qing troops were still as enigmatic as ever, they embraced the will to die to fight against Japanese troops.
The battle of the Yellow Sea was one of the most brutal battles during the war, both sides made the battlefield become a living hell. The battle had being fought so hard like beasts wearing the human flesh, barbaric and ferocious. With the battle went on, the Chinese navy was almost completely annihilated by the Japanese navy, Lin Yongsheng, Deng Shichang, Lin Lvzhong, Huang Jianxun and many other generals sacrificed. General Ding Ruchang lead the residual Chinese navy back to defend the Wei Hai fortress, however, they still could not stop the Japanese attack. In the following days, the base of Chinese navy Lv Shun had fallen. The war was over, Qing Dynasty was lost and hometown was fallen into Japanese hand, the struggle lost its meaning and the only thing left was the fear of the death and endless desperation. Kamasi was severely wounded but but he decided to stay at battle position to cover the main troops retreat, he knew he cannot survive so he offered his life sacrifices to the demon Eluri. The sacrifice made his soul and mind out of his flesh and blended into the ocean, it became the darkest Shamanistic curse to the Japanese troops. This was the final counterattack, so called "Broken Waves".